Yesterday I was at the PyDay event that was organized by the 'Python Murcia' Meetup at the CEEIM building in the University Campus at Espinardo. In fact, I was invited to give a talk featuring an introduction to Python for beginners. Surprinsingly enough, the audience seemed to like it. It is nothing special, but you can download the PDF for my presentation from here.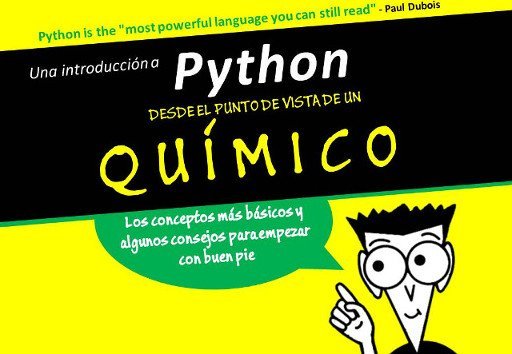 The first slide on my presentation. And yes, besides a computer geek, I am a computational chemist.
Besides mine, there were another two talks: one about the Djano framework, by José Sanchez, and an introduction to Data Science on Python, by Manu Garrido, the organizer of the event. We also had a short streaming connection to the PyDay events happening in Madrid and Valencia.
The event was great: a wonderful ambience, an assortment of free stickers, interesting talks, an enlightening Q&As after each talk. Also the attendance was great: for this meetup we had over 30 people (!!) with varying degrees of experience, starting from newbies that wanted to learn about how to get started with python, to professionals and enterpeneurs for which python is their daily work.
With such nice events, I can only recommend anyone interested in python who is around Murcia to join us for our next meetup!